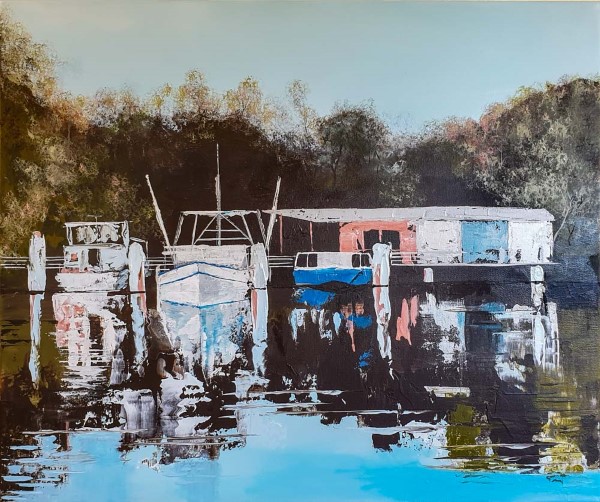 Rossella Van Vugt was born in Trieste, Italy. She arrived in Australia in 1955, as a small child, grew up and was educated in Melbourne. At a very early age she had an aptitude for drawing and, throughout her life, art in its many forms and mediums has always been part of her life.
Relocating to Noosa from Sydney opened up another avenue of creative learning by joining the Noosa Botanical Artists Group in 2004 at Wallace House and the use watercolour.
Painting from specimens encouraged her to observe and appreciate the intrinsic beauty of flowers and plants. With this group she exhibited her work with the Botanical Artists' Society of Queensland in 2008 and 2009.
Rossella has continued to expand her knowledge and expertise in the use of acrylics and incorporated still life, landscapes, portraits as well as the human form with this medium. She is a member of Noosa Open Studios and opened her studio to the public in 2021 and 2022 Noosa Art Trail.
Current work (featured above): Spinnakers, Hastings St, Noosa and Noosa river early morning. Past exhibitions: Noosa Open Studios – 2021 and 2022 Immanuel Arts Festival, Buderim – 2022 Noosa Regional Gallery – Taste of Art – 2016, 2017 Kenilworth Art Exhibition in 2014 and 2015 Botanical Artists' Society of Queensland 2008 and 2009 – Exhibited botanical art.
Rossella had her painting Brumbies on display as part of our 2023 exhibition.
You can follow Rossella on her Instagram profile.