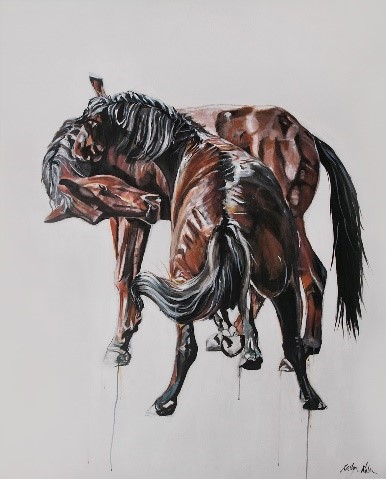 Growing up in the Mallee region of Victoria, horses were a huge part of family life. My father was a horse trainer/breeder . I was always fearful of the horses in our care and endeavored to keep a safe distance. It wasn't until adulthood when I had the opportunity to do a commission of a horse that sparked my reconnection and appreciation of the beauty of the horse.

I thoroughly enjoyed representing the muscle structure, athleticism and power of the horse in various compositions and mediums. I am totally in ore of these magnificent creatures that deserved to be protected and respected.
Roslyn has a Bachelor of Fine Arts, Bendigo College of Advanced Education (1987-1989) and a Graduate Diploma of Education (Secondary), Australian Catholic University, Melbourne (1991). Roslyn's art career has spanned many years. She has had six solo exhibitions and is currently working on her seventh. Roslyn has participated in 11 group exhibitions and her work has been shown in over 25 community exhibitions.
During our 2023 exhibition, Roslyn had her painting To Be Free on exhibition.
Visit Roslyn's website or follow her on her Facebook page and Instagram profile