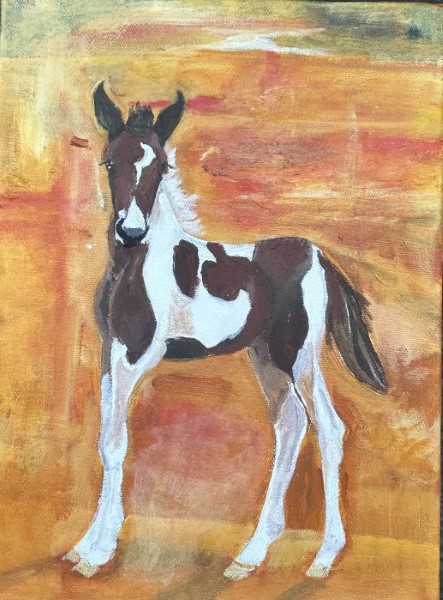 Horses and art have been part of my life since a young child. I adopted a Brumby named "Cindy" when about 10 years old, one of many in horses in my life.

My work life has been centred in Family Law, having completed a Monash Uni Law Degree on the Sunshine Coast, after completing Fine Arts at RMIT in Melbourne. I've participated in several collaborative exhibitions including at Ian Potter Gallery Carlton and Temple Gallery Prahran. My work has been sold privately.

After 15 years working in Family Law, and 5 years as an Art Therapist on the Sunshine Coast, (after completing studies La Trobe Uni 2004) I am now turning to focus on my own painting again. I haven't allowed much time for painting, but all that is about to change. Which is why I was thrilled to discover Seeing the Soul exhibition, to submit my work Spirit of Brumby, and to support Hoofbeats, whose work is so closely aligned with my own interests and values.

I thoroughly enjoy painting Brumbies, horses. I am founder of Brumby Action Group, a not-for-profit organisation that works to protect and conserve wild living Brumbies. I paint Brumbies, landscape and seascape and dog portraits. I accept commissions.
For our 2023 exhibition, Marilyn contributed the paintings Heritage Brumby and Spirit of Brumby.