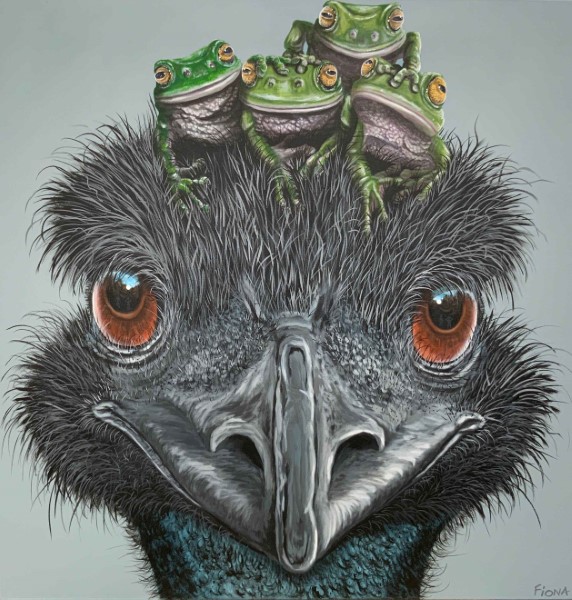 Fiona Groom's creative journey started with a selection of art courses which included Certificate II Visual Arts, Diploma of Visual Arts (Fine Arts), and concluded with a BA Double Major Fine Arts, Visual Culture.
Professionally Fiona's activities have included exhibitions in a variety of State and National Arts Festivals/ Exhibitions as well as Group and Solo Shows.
Her work has also been displayed in Florence, the US, Scotland, England and in addition to those shows Fiona has donated and displayed various works for the Explorers Against Extinction presentation in London, Twitter Art Exhibit Worldwide and was also featured in a TV episode of Put Some Colour in Your Life, resulting in her episode being sent to the moon in 2023 as part of a cultural library being setup in three different areas of the moon by NASA & SpaceX.
Ms. Groom is very active in the local Artistic community and works/volunteers in several Community Galleries on the Sunshine Coast. This has given her plenty of occasion to work with other Artists, organize and present art and become involved in an assortment of local community events, including Noosa Open Studios, group exhibitions, exhibition installation and facilitate art projects, children's art workshops, painting workshops, plus art group tutoring and community based Artisan Markets.
Furthermore, Fiona has also had the chance to make her Animal Art large scale with the creation of a variety of murals that can be found on the Sunshine Coast and its surrounds.
Fiona contributed two artworks for our 2023 event: the paintings What U Lookin At? and Family Ties.
Visit Fiona's website or follow her on her Facebook page and Instagram profile.