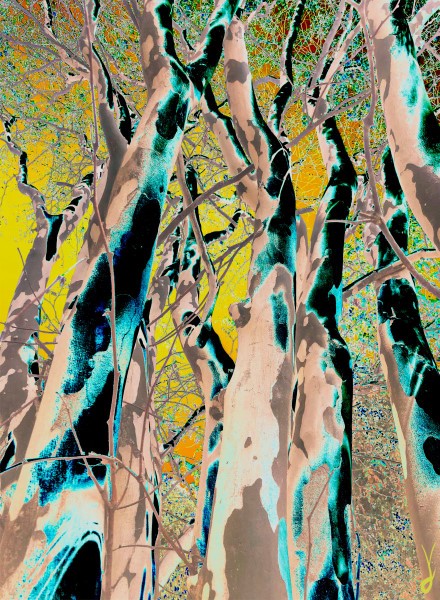 Donna Fisher is a writer and artist from the Noosa Hinterland, Australia. Her visual and written work deals with themes of journeys and transformation. She finds inspiration on forest walks, where the trees whisper stories and reveal inner truths.
She returned to her art practice as a way to express gratitude for the natural environment. It has been scientifically proven that time amongst trees has mental and physical health benefits, this has certainly been true for Donna. Forest walks gave her an escape from chronic pain and helped Donna find her way back to a happy place.
She uses vintage maps in her tree-inspired abstracts, speaking to the direction we can find when we meditate on the beauty of a single tree, not allowing ourselves to feel lost in the forest.
Her digital work provides a portal to an imaginary outside world for homes, retail and office spaces; an escape to a comfortably familiar, but energisingly different place – a wonderland on the wall. Donna hopes that wherever her artwork resides, it gives you the feeling of escapism, awe and happiness we can find on a forest walk.
For our 2023 event, Donna contributed the sculpture Not Broken, Breaking Free, as well as the artwork Forest Spirit – Freedom.
You can visit Donna's website and follow her on Instagram.