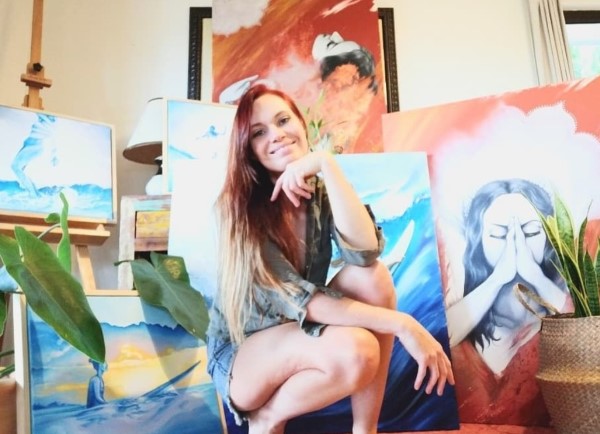 Beck's interest lies in the emotion of a suspended point in time, trying to capture that moment so that we can live in it a little longer.
She distorts reality through, light, vibrant colour and fluid brushstrokes or tonal contrasts that seem to both swallow and harmonise with her subject's delicate, classical details.
Her style has been described by others as somewhere between Expressionist and Contemporary, but she tries not to limit herself to one particular genre "When I do sit down to make art, I never really set out with a particular style in mind, I just keep myself open to absorb inspiration… I love playing with light and always try to depict a dreamlike quality".
She invites her audience to give permission to themselves to be gently present in this moment, here and now.
She has previously exhibited throughout Brisbane and Melbourne before the pull of the ocean calling her home became irresistible and she returned to settle in her beloved Sunshine Coast.
She works primarily with oil paints or graphite and all paintings and illustrations are original.
Beck has also featured as the 'Hello Sunshine' magazine featured cover artist for the Spring edition.
Beck also facilitates Paint and Sips, art workshops and private lessons in Coolum Beach, Sunshine Coast.
When Beck isn't squirreling away painting and illustrating in her studio she can be found surfing, horse riding and fossicking the local markets for treasures.
Beck contributed two drawings to our 2023 event: Sanctuary and Seeing the Soul.
Visit Beck's website or follow her Facebook page and Instagram profile.